Pure American Ground Lamb & Gyro Products
Papa George's ground lamb has delicate taste and natural flavor. Our ground lamb is guaranteed to be 85% lean with high grade and premium quality. No salt, spices, or solutions are added to our ground lamb. It is manufactured from fresh, not frozen, pure American lamb. After it is manufactured, quick freezing is applied to lock in the natural flavors of this delicate meat. Papa George's ground lamb is an excellent choice for burgers, meat loafs, hot dishes, pies, sausages, and even as stuffing, or crumbled in traditional or contemporary recipes.
The Papa George's Difference
Our family is committed to conservation technology, sustainable farming, and Eco-friendly management practices. Papa George's lambs range freely, and graze on the natural bounty of a vast and biologically diverse landscape of the American Midwest. Like other red meats, lamb is an excellent source of vitamins and minerals, and its high-quality protein provides all eight essential amino acids.
Papa George's… Healthy Enjoyable Eating and a Better Way of Life!
Papa George's American Lamb Selection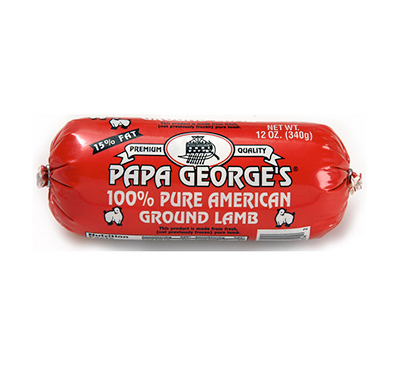 12 – 12oz Rolls Per Case.
$60.00 + shipping
Shop Now

This delicious ethnic tasting gyro sandwich kit is made of very lean, fully cooked beef and lamb meat with no MSG or preservatives. It includes a delicious authentic fat-free greek yogurt, and ready to eat pita bread.
Nutritional Facts
6 Gyro Kits Per Case.
$60.00 + shipping
Shop Now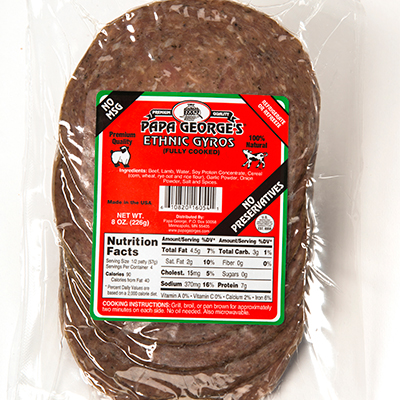 This very lean, fully cooked beef and lamb combination product has no MSG or preservatives. It is excellent for the grill, or traditional gyro sandwiches. The gyro patty is fully cooked and never frozen, making it convenient to prepare quickly. Simply sear the slices to unlock the flavor of the herbs and spices. Papa George's gyro meats are excellent in wraps, pita pockets, salads, pasta dishes, omelets, pizza or soups.
Try our Ethnic Gyros with Papa George's Fat Free Fresh Cucumber Sauce
Nutritional Facts
12 – 8oz Packages Per Case.
$48.00 + shipping
Shop Now