All Natural Pork Sausage Roll & Link Varieties
Our family of All Natural Reduced Fat Papa George's pork sausage rolls and links are perfect for breakfast, lunch or dinner. They provide convenience and offer the delicious fresh flavors needed in your home cooking. Papa George's All Natural pork sausage rolls and links contain no MSG, no preservatives, and no fillers. We use only the finest lean quality cuts of meat, and the taste is not compromised by the 55% fat reduction of a regular pork sausage.
Papa George's Pork Sausage (all flavor varieties) are:
Reduced Fat
– 55 Percent less fat than U.S.D.A. data for regular pork sausage – reduced from 28 grams to 12 grams of fat
MSG, Preservatives, and Gluten Free
All Natural
Papa George's… Healthy Enjoyable Eating and a Better Way of Life!
Reduced Fat Pork Sausage Roll Flavors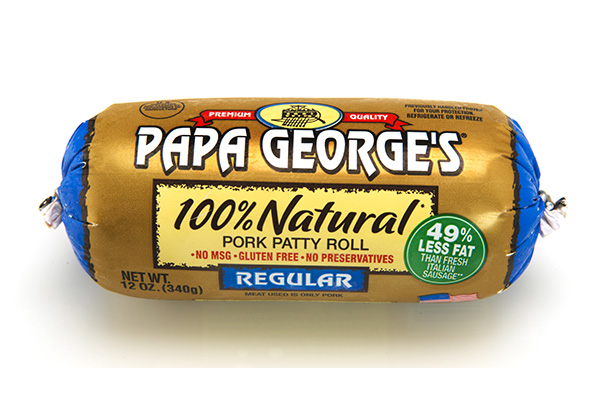 12 – 12oz Rolls.
$45 + shipping
Shop Now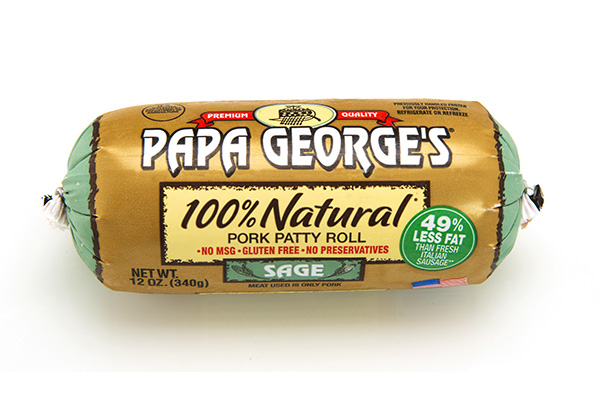 Our sage flavored pork patty roll blends pork sausage with a smooth and mellow taste of sage. This gourmet-flavored sausage is an excellent ingredient for a variety of dishes not just entrees. Sage is excellent in egg dishes, stuffing and dressing. It works particularly well with white creamy sauce-based dishes, wild rice, potatoes, and earthy-flavored recipes.
Nutritional Facts
12 – 12oz Rolls.
$45 + shipping
Shop Now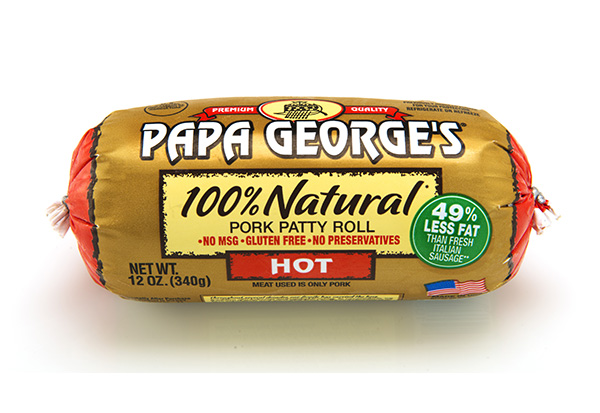 The hot flavored pork patty roll contains just enough zest to provide comfortable warmth to the palates. Hot is particularly good as a pizza topping, in lasagna, or other dishes with tomato based sauces.
Nutritional Facts
12 – 12oz Rolls.
$45 + shipping
Shop Now

12 – 12oz Rolls.
$45 + shipping
Shop Now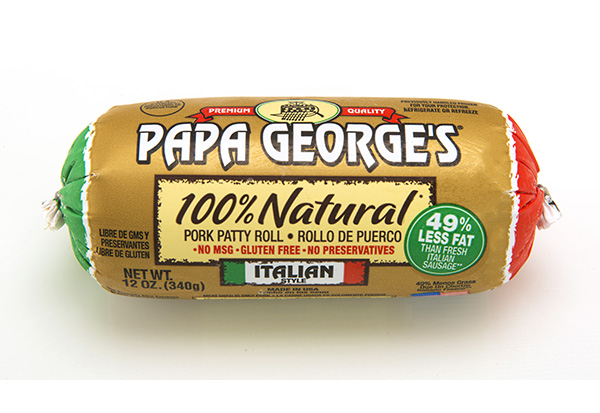 Papa George pork patty roll Italian style sausage is neither hot nor mild, but very flavorful and authentic in taste. It is used in pasta dishes, entrees, appetizers and more. Try it and you will not regret it!
Nutritional Facts
12 – 12oz Rolls.
$45 + shipping
Shop Now
Reduced Fat Pork Sausage Link Flavors
More Info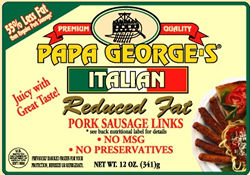 Our Italian Flavor Pork Sausage Links are designed to complement, rather than overpower, traditional Italian recipes. From pasta dishes and pizzas to bruschettas with cheese and sausage on the grill, Papa George's reduced fat Italian flavor brings out the supreme flavors of old fashioned Italian cooking.
Nutritional Facts
More Info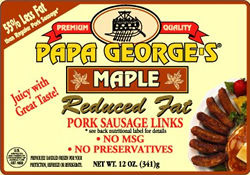 Our Maple Flavor Pork Sausage Links fall in the realm of old traditional breakfast cooking. It complements or enhances many recipes where light and smooth taste of pure maple. Try it with your pancakes or eggs.
Nutritional Facts
More Info