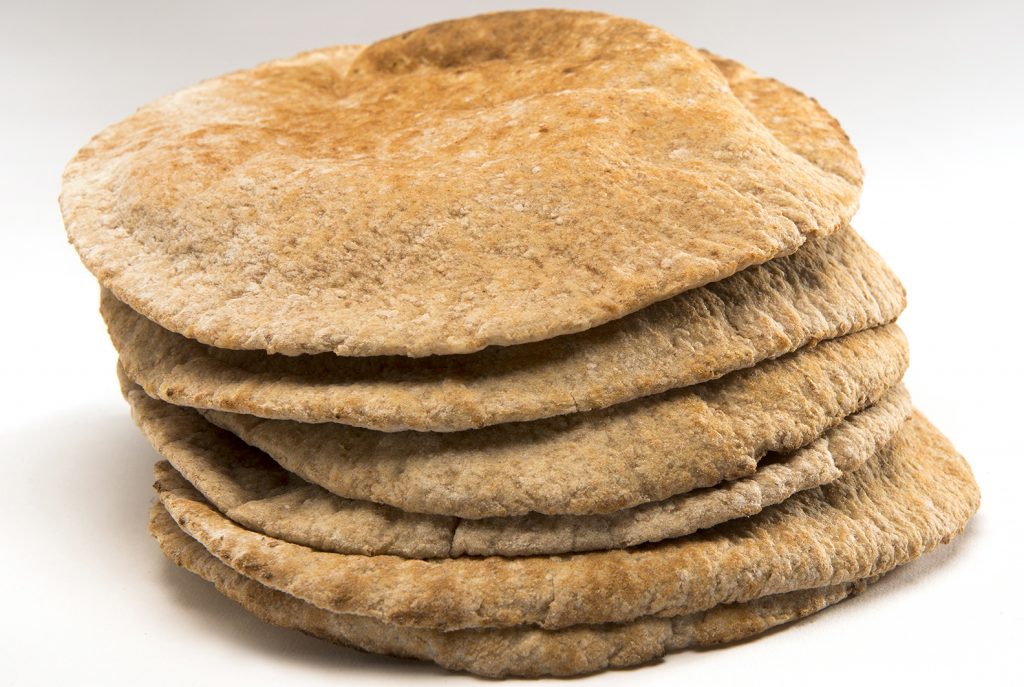 This type of fine flatbread is very popular throughout the Middle East. It is baked in a traditional oven where it quickly puffs out very dramatically. It collapses just as fast but still forms a sort of pocket, which can be stuffed with grilled meat, raw vegetables, or falafel.
Ingredients
1 tablespoon active dry yeast
1 cup lukewarm water
2 cups unbleached wheat flour
1 cup whole wheat flour
1 teaspoon salt
Cooking Instructions
In a large bowl, dissolve the yeast in the water. Add the flours and salt, and mix vigorously. Work the dough for 5 minutes. Continue for another 5 minutes; turn out the dough on a work surface and knead it with a stretching motion until it becomes pliable and elastic.
Place the dough in a bowl dusted with flour and cover with cloth; let it stand for 1 to 2 hours, or until doubled in volume.
Divide the dough into eight pieces and roll them into balls about the size of a golf ball. Flatten them into ¼-inch-thick circles, working carefully as you stretch and shape the dough.
As you form each pita, set it on a floured work surface and cover. After about 10 minutes, flatten them with a rolling pin.
Let the pitas rise once more, for 20 minutes.
Preheat several baking sheets (or plan to cook the pitas in several batches) in a 450°F oven.
Set the pitas on the sheets and sprinkle them quickly with a little water. Bake for 4 to 5 minutes, making sure that they do not begin to brown. Check that they are firm and cooked through.
If you need to quickly prepare few pitas, use a heated pan as cooking surface (see picture above) and flip the bread as it starts to puff out.
Place the pitas on a rack and let them cool briefly. Wrap them carefully in a cloth so they will remain soft.
Makes 8 pitas.
[popup url="//papageorges.com/printable-recipes/pitabread.txt" class="btn btn-primary"]Print This Recipe[/popup]