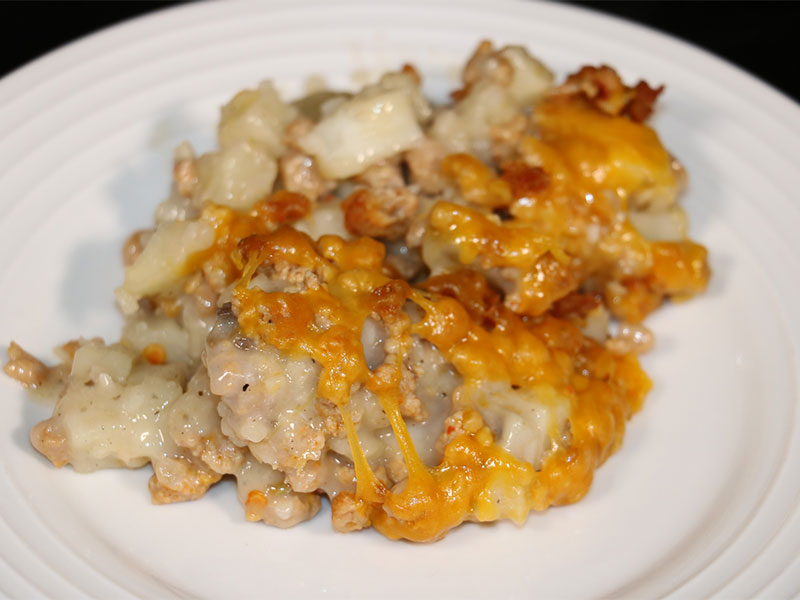 Ingredients
1 Papa George's 100% Natural Pork Sausage roll (Regular, Sage, Hot or flavor combination)
1 can (10-3/4 ounces) condensed cream of mushroom soup, undiluted
3/4 cup milk
1/2 cup chopped onion
1/2 teaspoon salt
1/4 teaspoon pepper
3 cups sliced peeled potatoes
2 cups (8 ounces) shredded cheddar cheese
Directions
Heat oven to 350°. In a large skillet, cook sausage over medium heat until no longer pink; set aside. Combine soup, milk, onion, salt and pepper.
In a greased 2-qt. baking dish, layer half of the potatoes, soup mixture and sausage. Repeat layers.
Cover and bake until potatoes are tender, about 60 minutes. Cover with cheese and bake uncovered for 2-3 minutes or until cheese is melted.
[popup url="//papageorges.com/wp-content/uploads/Sausage-potato-casserole.txt" class="btn btn-primary"]Print This Recipe[/popup]