Ingredients
1 12-oz packages of Papa George's Reduced Fat Pork Sausage Roll (Italian and/or Hot)
1 loaf French or Italian Bread, about 22 inches in length
12 tablespoons unsalted butter, softened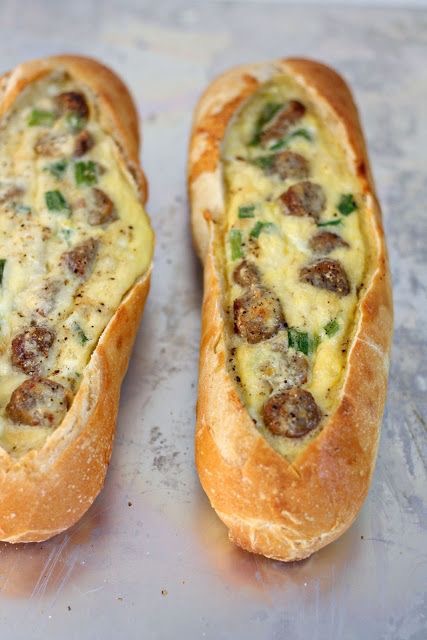 2 tablespoons extra virgin olive oil
1 cup grated parmesan and mozzarella
2 tablespoons minced garlic
1 tablespoon finely chopped parsley
¼ tablespoon salt
1 tablespoon olive or vegetable oil
1 cup thinly sliced yellow onion
½ cup thinly sliced green bell pepper
Pinch crushed red pepper
1 tablespoon chopped garlic
Cooking Instructions
Preheat the oven to 375 degrees and line a large baking sheet with aluminum foil.
Cut the bread in half lengthwise. Lay the two halves of bread cut-side up on the lined baking sheet.
In a small mixing bowl combine the butter, olive oil, grated parmesan, garlic, parsley, and salt, and mix well with a rubber spatula or fork. Spread the butter mixture evenly onto the two halves of the bread. Place on the baking sheet and bake until just starting to get bubbly but not brown, about 10 minutes. Remove from the oven.
Meanwhile, cook the pork sausage in a large skillet, stirring and breaking up with a large wooden spoon, until cooked through, about 5 minutes. Remove with a slotted spoon and drain on paper towels.
Add the onion, peppers, and red pepper, and cook, stirring, until soft, about 3 minutes. Remove from the heat, add the sausage back to the pan, and stir well. Spread the sausage mixture evenly over the bottom half of the French bread and cover with the top half. Wrap in aluminum foil and return to the oven to warm through and for the flavors to blend, 5 to 6 minutes. Remove the bread from the oven slice and serve immediately.
[popup url="//papageorges.com/printable-recipes/sausagegarlicbread.txt" class="btn btn-primary"]Print This Recipe[/popup]