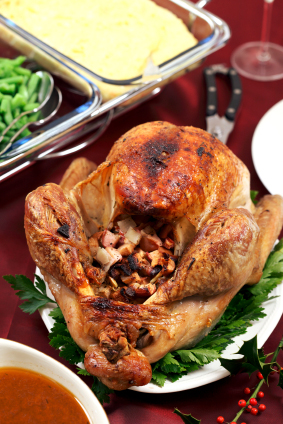 Recipe Submitted by Grand Prize Winner: Christopher C.
Ingredients
2 12-oz packages of Papa George's Reduced Fat Pork Sausage Roll (Regular, Sage, or combination)
1 stick butter
1 cup chopped celery
1 cup chopped onion
1 teaspoon rubbed sage
1 teaspoon dried oregano
14 ounces herbed stuffing mix
2 cups of chicken broth
1 cup of dried cranberries
1 cup chopped walnut
freshly ground black pepper (to taste)
salt (to taste)
Cooking Instructions
In 12-inch skillet, crumble the sausage and cook, stirring frequently until lightly browned and cooked through. With slotted spoon, transfer from skillet to large mixing bowl. Melt the butter. Add the onion to skillet and cook, stirring frequently, 12 minutes, or until onions are golden brown and tender. Add celery and cook 5 minutes, or until crisp-tender. Add sage and thyme; mix well. Remove from heat.
Combine the browned sausage, onion and celery mixture, stuffing mix, chicken broth, dried cranberries, and walnut; season with salt and freshly ground black pepper to taste. Toss well, add 4 tablespoons melted unsalted butter, and toss again.
Makes stuffing for 12-15lb turkey.
[popup url="//papageorges.com/printable-recipes/turkeysausage.txt" class="btn btn-primary"]Print This Recipe[/popup]