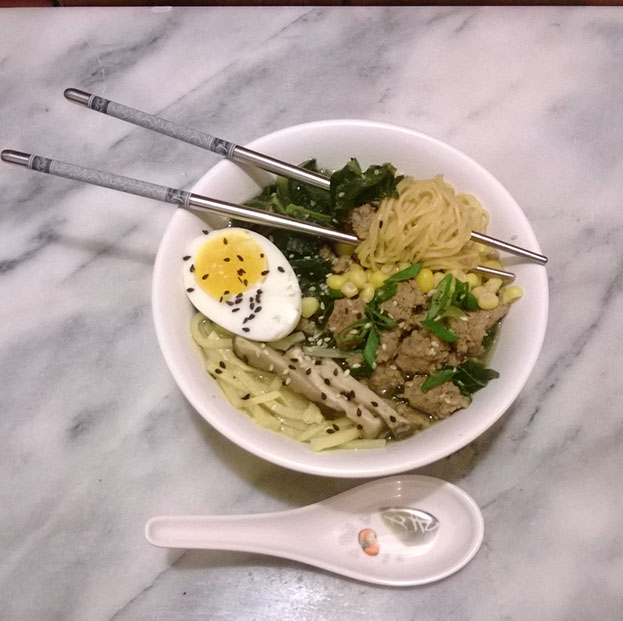 This delicious recipe is a courtesy of Alexandra Jones.
Ingredients
1. 1 12 oz roll Papa George's Reduced Fat Pork Sausage Roll (Regular flavor)
2. 1 inch knob fresh ginger cut in half
3. 4 shitake mushrooms
4. 1 bunch scallions
5. 2 quarts chicken stock
6. 1/4 cup mirin
7. 2 Tablespoons soy sauce
8. 2 teaspoons sugar
9. 1 bunch of collard greens, stripped off of stems and coarsely chopped
10. 4 portions of Ramen noodles (fresh or dried)
11. 1 cup of corn (frozen, canned, or fresh)
12. 1 cup bamboo shoots (fresh or canned)
13. Green parts of scallions, sliced
14. 4 soft boiled eggs or fried eggs
15. Sesame seeds
Cooking Instructions
In a large saucepan or stock pot place crumbled sausage over medium heat; when the sausage begins to render add ginger, and white parts of scallions (save the green part for topping bowls), add shitake, add collards, when wilted and shrunken in size, add stock. Bring to boil, reduce to medium, add soy sauce, mirin, and sugar. Simmer. Skim any oil off the top.
Boil the Ramen as per directions on package (dried); fresh ramen cooks in about 1 minute. Divide noodles up evenly into four bowls,
Divide noodles up evenly into four bowls, fish out your mushrooms and remove stems, and slice, place in bowl, add corn to each bowl, fish ginger out of broth and discard. Using tongs or chopsticks remove some of the collards and mushrooms(remove woody stem)slice, place on bowls, do the same with sausage using a slotted spoon, add broth, sliced scallions, eggs, bamboo shoots and a bit of sesame seeds or ramen pepper.
Makes 4 servings.
Enjoy a whole new way to get your sausage and eggs!
[popup url="//papageorges.com/wp-content/uploads/sausageramen.txt" class="btn btn-primary"]Print This Recipe[/popup]